Being the main component in the creation of "First impressions" that potential customers can generate of a business, it is of the utmost importance that your business sign is in optimal conditions, with routine cleaning maintenance that preserves it to be able to exploit everything its potential, and set trends.
We know that it can be very common for the cleaning of these signs to be forgotten or overlooked, that's why we created this manual that will indicate the benefits of constant and successful maintenance. 
We will mention how detrimental it can be for a business not to have an effective cleaning routine for its signs. We will indicate the necessary materials and we will enunciate the fundamental considerations to carry out a practical care and a true preservation step by step of each one of the commercial signs without damaging them.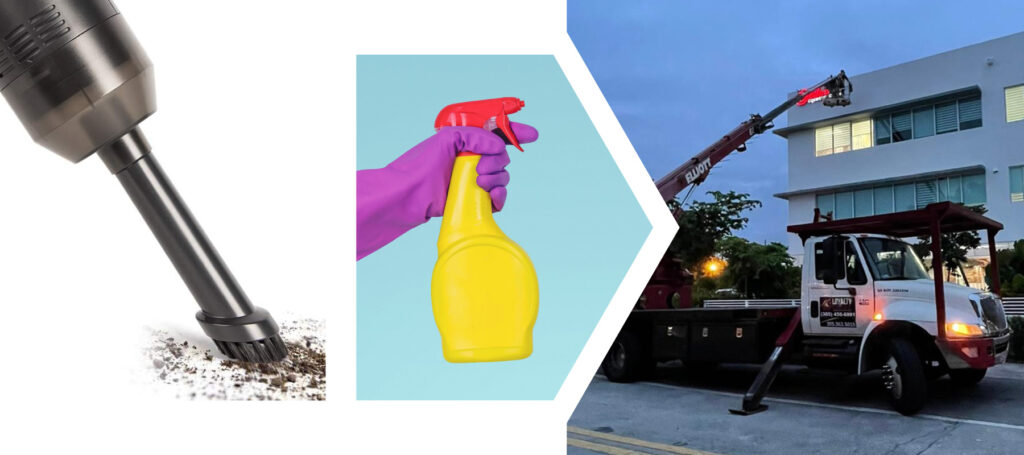 To clean your Signage correctly you will need:
Soft microfiber cloths

to remove dirt and prevent scratches.

Preferably

lukewarm water

.

Mild soap or detergent

.

Cleaner made specifically for acrylic

.
Always use cleaning materials that are soft. Although most of the structure is aluminum, which is durable and resistant; the fronts or faces of the letters are made of acrylic material and can be easily scratched if the appropriate elements are not applied during the process.
It is not recommended to use cleaners that contain ammonia as it will contribute to acrylic lettering losing its natural shine and appearing cloudy. Most common cleaning products like glass cleaners, polishing waxes, car waxes, degradation products and cleaners from around the world are detrimentally abrasive to acrylic parts and can affect your signage in a bad way.
It is essential to avoid sponges, metal pads, melamine foam and hard cleaning cloths that can damage the materials.
Even use caution when using a dry microfiber cloth, as it can scratch the surface of the fronts and top of the sign, pushing dirt across the entire acrylic area and causing tiny abrasions.
Step-by-step guide for proper cleaning
If your company has a Channel Letter or Reverse Channel letter at a height that does not make it difficult to access, or if you have Interior Signs, the following steps may be applied:
Use a hair dryer

, a vacuum cleaner or any device that allows you to remove dust from the surface and between the letters.

Use

soft microfiber cloths

dampened with lukewarm water. This action should be enough to clean the dirt on the acrylic material. If the letters are too dirty and the water was not enough to lighten the surface, add a small amount of detergent or acrylic cleaner to the warm water.

Go over the area with a

soft dry cloth

, without applying pressure.

Allow the sign to

naturally air dry

.

You can protect signage from the elements by applying a clear coat of polyurethane or other protective sealant. This will prevent the sign from fading or discoloration over time.
Instead, if your Channel letter is at a considerable height, and not as accessible, you can do regular cleaning using a leaf blower on the lowest possible setting to get rid of dirt and debris.
If you have any of the signs mentioned but are located at a height where the risk of cleaning exposes people to dangerous situations, it is necessary to contact professionals with the necessary experience.
What happens if we do not take care of our commercial signs?
Most business signs have a three-dimensional design, made with materials that are highly resistant to inclement weather for long periods of time. Many of them have gaps between letters or in the custom logos of each brand. These spaces offer an undoubted opportunity for accommodation for various insects and birds.
Aspects to take into account about the maintenance of signs:
Dirt and debris

can cause problems with the proper functioning of your Channel letter sign.

Remnants of dust and debris

can cause your sign to shut down, or require repair. You might even have issues with electrical lighting equipment.

It is very common for dirty signs to be difficult for the public to see, the colors can be perceived in a more

opaque tone

, the letters can be blurred, this causing your signage to be less effective.

All of these drawbacks decrease the effectiveness of signage as a marketing tool and potentially reflect negatively on the business.

Another reason signage maintenance is important is for

safety reasons.

This is why it is essential to adopt an effective cleaning, care and maintenance routine that guarantees the prevention of any disturbance in the operation and aesthetics of our signs, which will contribute to the optimization of their use and useful life.
Hire professionals for repair, maintenance or replacement of your Commercial sign.
Our company was created with the objective of offering products that respect the environment. Our highly trained staff will help you with your signage project from the first contact. We offer a personalized follow-up of each service that includes sign repair and maintenance service. This service consists of repairing, replacing luminaires, changing letters that are broken or damaged by time, and any other type of work to improve and maintain your signage in optimal conditions.
Loyalty Signs is a leading business sign manufacturing and installation company in Miami. We stand out for our after-sales service with absolute dedication and responsibility. If you have a commercial sign with the characteristics described above, do not hesitate to contact us immediately, we have the necessary tools and experience to solve the cleaning professionally, as well as to carry out repairs of the leds and electrical materials. We respond to any request, and we are always at your disposal to resolve any concerns.